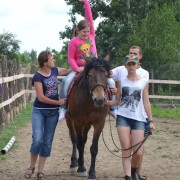 Bogdanka
(Her name means God's present)
The car was driving into the yard right up to the horses. I got angry. How
can they be so impudent to drive into the yard of the farm! The door of the
car opened and a lady and a man and young boy got out of the car. the man
took out a wheelchair and lifted a young girl from the back seat. A very
enthusiastic, lovely young girl looked at me smiling, I felt ashamed for my
anger, she sits in the wheelchair and cheerfully...