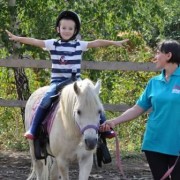 Skill developing therapy
It is very important for the children to get to know the world around them. Sitting on the
back of a horse they are faced with new motions, they are exposed to various stimuli. This
way children can improve their development and gain confidence. Horse riding gives
them great joy, were they can learn to behave properly, to keep to the rules, take notice
of others around them and to care about animals. The skills developed whilst riding
makes children self supportive and creative. After a course of riding skills their muscles
become stronger, their reactions become faster and they grow in confidance .
Those who stand on the back of a horse can stand in different situations of life as well.