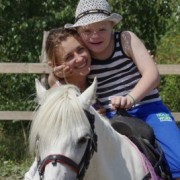 Give a chance for injured children!
We feel it is important to develop handicap children in a playful way. Equine
assisted therapy is an effective way which has already been used in other
countries for many years. In Ukraine it is quite new, so it would be a huge step
forward if we could help more children in Transcarpathia.
The parents of handicap children are in a difficult situation all around the world
but in Ukraine they have to fight hard to survive. To care for a handicap child
needs constant supervision, one of the parents has to be at home all the time, so
their living is much harder in comparison to other families. They need money to
pay for the medical treatments and have to travel a lot to find the right institution
to get the appropriate treatment.
Many families with handicapped children can hardly move from home as most of
them have no car and even a wheelchair. The current situation in Ukraine makes it
very difficult for all families. Just imagine how a family with handicapped children
needing treatment can find the finance to cover the cost of the treatment when
they can hardly pay for gas bills.
We are looking for generous donors who would like to support the
cost of the treatment. One treatment is 5 EUR. A course of ten
sessions makes a real difference to the lives of these children.
Horses are having a positive effect on the handicap children and even their
parents can have some time for themselves during the treatment sessions.